EUROLANGUAGES-PT
Welcome to Eurolanguages-Pt; where you can acquire, efficient, accurate and reliable service at extremely affordable prices.
Our specialty lies within the medical-health area
The implementation of Esperanto throughout the planet would probably have saved us all from a lot of communicational frustration and even been beneficial for our bank accounts, but fortunately for the translators and interpreters this brilliant plan is still on hold! Thank the good LORD!
To translate is to transmit the original message along with all of it's meaning (literal, emotional, social) to whichever language the situation requires. Unlike the automated translation (where only words are translated and the meaning of the message is lost), human translations offer an accurate and reliable account of the text - of course this also depends on the knowledge and experience of the translator!
Under one of these subheadings, it's a good idea to list recent updates to my site so that visitors, especially return visitors, can check out the new stuff first. For example, I could list the date and a brief description of the update:

7/16/00 Added pictures of my vacation to the Photo page.
6/25/00 Updated the team schedule for the fall 200 season.
5/30/00 Added information about a new product my business offers.

I could also list updated news about my site's topic. For example, if my site were about a particular sport, I'd could discuss the outcome of a recent competition.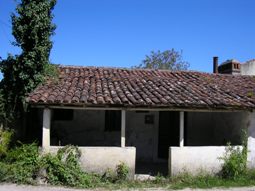 This unique old house (the last one of it's time and style) in Costa de Baixo, Maceira-Leiria, Portugal, is a perfect example of the simple lifestyle led by the low class agricultural population in this region of the country.
This would also be a great place to include any new information or changes that you have made to your site recently. It is important to regularly change the content on your site and make updates to the information that you display. Doing this will help you to get more return visits from your visitors.
Notifying Visitors of Site Enhancements
Another idea for my home page's text is notifying visitors about the enhancements I put on my site. For example, I want visitors to sign my guestbook or fill out my survey Form E-mailer to answer questions about my site, my business, or my site's topic.
Captions for pictures
Adding captions makes my pictures more interesting.